FREE 1 Hr Mp3 - Speed Learning
Click here to visit Revolution Distribution.
Isochronic brainwave entrainment.
LWC Global Markets - For All Your B2B Advertising Needs - Custom & Targeted Marketing - Website & Webpage Development - Link & Banner Exchanges - email; lw.craig@aol.com
FREE Mp3-Hypnosis Files & Tools...
FREE Mp3-Subliminal NLP Files For Every Problem
FREE-Software; Create Your Own Desktop Subliminals
Upto Date Productivity Software Suites
Get Your FREE Classified Ads Posted Today

Free Hosting. Free Design Tools
Easy To Use. Everything You Need

What Is "Desire?
Its a 'heart-felt prayer. Some desires are deep, while others are just a passing- fleet of vanity or wish, such as the common phrase, "Gee I wish I had one of those & then walking away to never give it another thought. It was Dr Edgar Casey, who taught that (thoughts are things) & I assume he meant that "thoughts are potential things. Any-time you see or hear the word "potential"- it means (seed).
How do we get any seed to grow? We tend & water it on a consistant basis every day or every 2-3 days. What do we need to do between watering? Rest, try to wipe the desire from our minds- this in turn launches our desire or prayer into the universe- allowing the energies of that desire to seek & search for that what we wish to "take place.
Desire is "emotion & emotion is pure raw energy. In Christian-based theology, "We are to make our request with boldness & then "Give Thanks in advance for receiving those things which we desire- just like we have already received it. Sort of like thanking your banker for a loan you havent physically received yet. This "thankfulness, is the magical key needed in order to launch our desire into the void of the universe. You may even need to make several launches in order to convince the powers that be- that you are serious...& if
you make several launches per day or every-other day; "Dont forget the "thankfulness after every launch and keep in mind; some seeds grow faster or (slower than others). Seeds take time to grow. I recall something an old Sufi I had befriended in Trinity Park of Fort Worth who taught me that "Even time- takes time to grow only because "time" was a man-made concept. If we can get past our own concept of time & un-create time within us as individuals- then the waiting period toward that prayerful-desire is made shorter... The "launch & thank-you principal" is the very same principal also advocated by Pagan-based covens since times prior to the first Pharos of Egypt. But, Be careful of what you pray for- because you may not like the baggage which often comes with the package in the long run..."Trust me, Been there-done that...:)
Neuro-Hypnosis: Using Self-Hypnosis to Activate the Brain for Change
Kenroy Home Meditation Natural Slate and Copper Tabletop Fountain - 50309COP
Get Some CRAIG'S FAST CASH NOW! Our Craigs Payday Loans are Fast and Our Online Application Couldn't be Easier!
Hypnosis And Positivity And Optimism Self Help NLP CD
Self Hypnosis - Believe In Yourself & Increase Self Esteem
Subliminal Weight Loss & Impulse Control, Natural Appetite Supression, Block Cortisol, Stop Night Eating, Motivation Meditation
The "Ambiant-sleep Mp3 below needs to be played
on low & set player for repeat or loop
Ambient-Sleep/Full Version/mp3
Hypnosis And Reclaiming Your Personal Power Self Hypnosis Mp3
Self Hypnosis - Believe In Yourself & Increase Self Esteem
Self Hypnosis: Creativity Brainstorm Session
FREE, Full Version; Mental-Magick
Weight Loss Hypnosis: Increasing Activity and Motivation
Harmonic Balance
Professional Hypnosis Listings
Journey Into Meditation: Guided Meditations For Healing, Insight And Manifestation
Weight Loss Hypnosis
Release Stress and Anxiety With Nlp and Hypnosis
Probably The Best Music For Relaxation and Meditation
Subliminal Powerful Increase of Focus and Memory: Binaural Beat Brainwave Subliminal Systems
Easily Improve Concentration With Hypnosis. Safe Powerful and Effective Increase of Focus and Memory.
Taking Your Power Back From Alcohol Or Recreational Drugs Misuse Hypnosis (Myth, Psychology & Metaphor) (feat. Gaia)
Achieve Your Goals Self Hypnosis Subliminal & Trance Meditation
Hypnosis that Helped 100,000 Clients - Hynotherapy - Sleep Deprivation - Sleep Deep and Restful
Compelling Clarity - Nlp and Ericksonian Hypnosis for Creating Clarity Regarding Important Situations
Ease Depression Breathe New Life Self Hypnosis & Subliminal NLP

Liberating Sensual & Sexual Energy. Hypnosis Fantasies for Healing Bliss (Tantra, Karma Sutra, & Sex Magick) [Explicit]
Astral Projection Hypnosis - Out of Body Travel, Spiritual, Thought Projection, Akashic Records, Subliminal, Self Help
Great Body Image Subliminal Message Therapy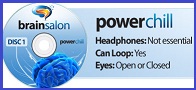 Strengthen Immune System Self-hypnosis
Self Hypnosis - The Realization Of Your Dreams
Anger Management Subliminal Message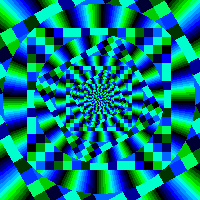 Member of; Craigs Underground Press
Delta brainwaves (3 - 0,5 Hz) are the brainwaves of the lowest frequency and represent the unconscious. If we only produce delta we will find us in dreamless deep sleep, but we also see delta in various combinations with other brainwaves. They may then represent intuition, curiosity, a kind of radar, hunches or a "feeling" for situations and other people. Delta is often seen with people who work in therapeutic environments or professions and with people who have had traumatic experiences and have developed a "radar" for difficult situations.
Gamma brainwaves (100 - 38 Hz) were detected later than the other brainwaves, less is known about them so far. They have been seen in states of peak performance (both physical and mental), high focus and concentration and during mystic and transzendental experiences. A lot of research is currently being done on gamma brainwaves in the 40 Hz range during meditation. One of the characteristics of gamma waves is a synchronisation of activity over wide areas of the brain.
Alpha brainwaves (14 - 8 Hz) are seen when we are in a relaxed state, daydreaming or visualizing ("sensualzing" seems to be more appropriate as imagination in all senses - hearing, kinaestetic, smell, taste etc. - stimulates alpha waves. Your visual sense may not nessariliy be the strongest for you. Some people rather feel an inner knowing). We need alpha waves as the bridge to the lower frequencies ot the subconscious (theta), if we want to remember the content of our dreams or our meditation, or if we want to retrieve information from our subconscious. For this reason alpha is especially important in combination with other brainwaves
Delta brainwaves (3 - 0,5 Hz) are the brainwaves of the lowest frequency and represent the unconscious. If we only produce delta we will find us in dreamless deep sleep, but we also see delta in various combinations with other brainwaves. They may then represent intuition, curiosity, a kind of radar, hunches or a "feeling" for situations and other people. Delta is often seen with people who work in therapeutic environments or professions and with people who have had traumatic experiences and have developed a "radar" for difficult situations.
Free "custom, Mp3 subliminals with brain-wave applications included are available from Lonnie@games.com on request on a "First come- first serve bases, at no cost


Jimmy's Super-coder software for coders & webmasters
OUR HUMAN NEEDS"
Meet your human needs – And discover how satisfying life can be, Using hypnosis to help you make meeting your needs an important priority in your life. Are your emotional needs being met? Does it feel like there are a lot of obstacles in the way?
In the slower paced, more settled times of the past, when people generally lived in smaller, communities and commonly stayed in the same place from birth to death, it was a pretty safe bet to rely on your community to provide what you needed.
You didn't have to try, specifically, to manage your own personal life the way we do today. It's rather interesting that our 'human needs' - beyond the physical ones - are not obvious. The huge social changes of the last few centuries, leading to the world we inhabit now, have shown us that we took all the well-being that came from the easy satisfaction of those needs for granted, and did not question how it had happened.
Only in the disorienting upheavals of change have we clearly identified what we need and how to get it. Modern life can block the satisfaction of needs And, Modern Hypnosis can help you meet those needs...
Meet your human" needs is an audio hypnosis session developed by psychologists that will help you to develop and maintain a very powerful strategy for looking after yourself so that you can get - and give - the most from your life. As you relax repeatedly to this gentle & powerful download, you'll notice that; you become more keenly aware to the roots of your well-being. you will notice more opportunities to satisfy your different needs and act on them as they take place.
Impromptu Speech
No Fear of the Dark - Kids
Stop Self Criticism
Don't Make the Same Mistake Twice
Ask for Help

Impromptu Speech
No Fear of the Dark - Kids
Stop Self Criticism
Don't Make the Same Mistake Twice
Ask for Help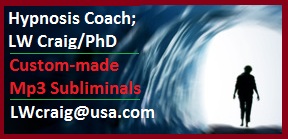 SUBLIMINAL-HYPNOSIS
Theory & Practice
By; LW Craig/PhD.HT
Subliminal messages are like affirmations in that they are also statements of the behaviors you would like to have. And they will also be formatted the same way: they will be personal, positive and in the present tense. But here is the critical difference with subliminal messages: you are going to bypass your conscious mind and send those statements directly to your subconscious. Your conscious mind won't even notice them.
Why would we want to bypass the conscious mind?
Unlike the subconscious mind that accepts everything, good or bad, that you say to it as fact, the conscious mind uses reasoning, intellect, experience and emotion to determine whether or notsomething is true or false. If the conscious mind (I refer to it as the "critical mind") sees a
statement as being false, it will reject it and not allow it to reach the subconscious where it could have made an impact.
Here's an example:
Let's say that you have always been dirt poor, but you truly want to accumulate wealth and enjoy a better lifestyle. So you start using the Affirmation Imprinting technique that I also teach. Your affirmation is "I easily make ten thousand dollars every month." You say this affirmation for weeks, maybe even months with little results. What happened? My guess is that the affirmation so far away from what the current reality is, that your conscious mind is rejecting that statement as being totally inaccurate. It's saying to itself, "Make thousand dollars each month? I barely made ten thousand last year. This statement is absurd." The statement is then dismissed and thrown out.
This is why we need to bypass the conscious mind and send those statements directly to your subconscious. You're probably wondering why we would even bother with Affirmation Imprinting when we could just use Subliminal Messaging.
The reason that we use both is because together they multiply the effects. So if you saw a 25 percent improvement using just Affirmation Imprinting and saw a 25 percent improvement using just Subliminal Messaging, you would get greater than 50% improvement using them in combination. In this case, the sum is more than the individual parts. Also, the amount of natural resistance created by the conscious mind is not only unique for each individual, but it is also varies within the different areas of our lives. So you may have a strong resistance to the affirmation "I weigh 135lbs" but have virtually no resistance at all to the statement "I easily earn ten thousand dollars each month." So basically, using both works better than
just using one technique alone.
So how do we bypass the conscious/critical mind?
To properly do this we are going to need a little assistance from technology. There are two main types of subliminal messages: auditory and visual. Auditory (or audio) messages try to sneak by the critical mind by being played at frequencies that we can't consciously hear. My results have been mixed and because background noises can have a huge negative influence, I tend not to use subliminal auditory messages. Visual subliminal messages are just what they sound like. These messages are going to be flashed in front of your eyes for a split second. It's long enough for your subconscious to register the message, but too quick for you to consciously read it. The messages of your choosing now flood your subconscious without the critical mind being able to filter them out.
There are many products available to help you accomplish this. They typically are priced from $25 to hundreds of dollars. I would recommend using Mind-Zoom. It's the only subliminal message program I have seen that uses both visual and auditory messages. All you do is turn it on and it plays quietly in the background. You can be doing all of your normal computer activities like checking email, searching the web, etc) and at the same time, without even thinking about it or putting in any effort on your part, your subconscious mind is getting bombarded with powerful messages that
will create the changes your want in your life. It doesn't get easier than that. There is also many free hypnosis programs found at "SourceForge.net and "Freewarefiles.com that are just as pro as all the other programs that cost high-dollar. Iv already checked them all out & they are splended for beginner-students as well as for seasoned professional hypnotist. You can even "google-search; (free subliminal hypnosis) & get a truck-load of links & sites that offer "share-ware files + free Mp3s on any given subject of your choice regarding "hypnosis. Even I often use the; "Virtual Hypnotist listed in "SourceForge.net to put together "custom packages for clients. All in all, you will eventually discover that the cure you need is found
between your ears- & "subliminal hypnosis" is the very best tool in order to bypass the critical left-brain thinking which keeps most seekers chained to their current "undesireable circumstance. For more detail on this subject & free "desk-top hypnotist, see; "http://subliminals.headplug.com"
"Secrets Of The Mind Exposed
sub-title; "Self-reinforcment
Below are some simple techniques you can start using today. As simple as they are- they prove to be more powerful than "wishful thinking. It isnt rocket-science folks- but with practice always comes "improvment of quality."
1. Repeating Affirmations
This can be done in your mind or spoken aloud, but it is essential to repeat the positive affirmations everyday. This can be done ideally in the morning or right before bedtime, as it allows the subconscious to continue working on it even whilst you are sleeping.
2. Write down your Affirmations
By writing down your affirmations, it is a reinforcement process that forces your mind to focus on it. By imprinting the importance of these affirmations in your subconscious, you are allowing it to be accepted and acted upon. It is also useful to leave the list in prominent areas such as your work space so that you are constantly reminded of those positive thoughts you wish to ingrain within your-self.
3. Listening to a self-recorded tape
Over time, you will find that it is more than sufficient & more benificial to listen to your own voice repeating those affirmations. It will then be less important to consciously think of your positive affirmations.
4. Someone you Admire
Pick out traits that you admire, or even a person whom you wish to emulate. Identify what characteristics you are aiming towards, and include them in your positive affirmations. This will give you a concrete goal to work towards.
The subconscious mind is a powerful tool that can work both ways if not properly trained. Once you decide on a path of action, the subconscious mind will guide you through it to achieve your end goal, manifested by the communication between the physical-conscious and the subconscious nature.
Download the Mind Secrets Exposed from;
www.mindsecretsexposed.com/leaked/MindLeaked.pdf

Everything, is 'ENERGY
The smallest of all solid componate or "measure is the "atom. The only thing smaller than an atom is called "a querk- yet even "querks are also comprised of just "smaller atoms". Every solid is a "compression of "atoms & the more solid anything is just simply means that the solid in question has the most amount of "atoms. ex; ice has more atoms than water- water has more atoms than "air. Metal has more atoms than "wood- yet every solid & sub-solid are all made up of atoms or "atomic particle. Even a single-grain of sand is a thousand times-+ larger than one-single "solitary atom. This gives you a birds-eye view of just how small an atom is- yet every-single atom is "living-energy". It's alive.
Even carbon-dust particles are "a-live with the very same atomic particles that houses inside & outside of your body. The only way to view an atom is via "an electron-microscope. If you take a carbon-dust particle, which is smaller than a "common dust particle & place them both under an electron-microscope, you will see the very same type of atoms from both as little tiny squiggles of what appear to be little darts of light darting back & fourth in a constant motion, 24hr/7. heat appears to speed the atom up where cold only just seems to "slow them down- yet atoms or "energy cannot be destroyed nor even "created. We can stretch it- we can compress it- but "energy cannot be destroyed.
We cant burn it- we cant even freeze it. So what is "consciousness? It's Pure Energy. So, what happens to "consciousness upon our demise? Where does it go? It simply returns unto "where it began. We can all plant seeds- but we cant "make nor create them in a lab. We can water & tend the seed- but we are not yet equipted to "invent them in a test-tube environment. We can clone them- but we cannot yet clone "consciousness itself, unless I missed something during my last physics class...:) In physics, the inner-world is just as vast & just as deep as the "outer regions of the space-time continuum.

Mp/3 Subliminal Head-plugs Available


Tunza Software Product Reseller Program That Pays You
Employment & Free Job Search's

Get Your Drive Back

Meet Your Human Needs

Fear of Cats

Self Injection

Be Less Abrasive
Free Flash-games @ JimmysXbox.com
Proper Wakefull Meditation's
FREQUENTLY ASKED QUESTIONS
How to meditate and get the best benefits from it...?
1. First find a very comfortable place where nobody can disturb you. Turn your phone off. 2. If there are any thoughts going though your mind, write all of them down so you don't need to think about them. 3. Get comfortable by sitting or lying down. 4. Listen to any of the meditations listed below with head phones, or if you can't do that make sure it is loud enough to hear but not loud enough to distract. 5. Dim the lights 6. Let go of any expectations. 7. Then just enjoy and let yourself go.
The benefits of meditating...?
Helps you with psychological benefits such as reducing stress, calmness and happiness. You start feeling much better about yourself, helps you to let go of worries or limited negative self beliefs.
The physical benefits you can get from meditating are as follows: more energy, calmer and better sleep patterns. How long will it take before I notice any results?
The effects of meditating are immediate and you will feel more rested, have peace of mind and will get more energy. For optimal results it's advised to meditate daily for 10-30min.
Click here to visit Secretmeditations Ltd.
Contact The Webmaster; LW Craig